TYCO AMP 1-1823724-1 is available for sale
12/02/2014
Thermal Adhesive Coated-TAC Fiber system available
11/20/2015
Corning Fibrance to light up your devices and accessories.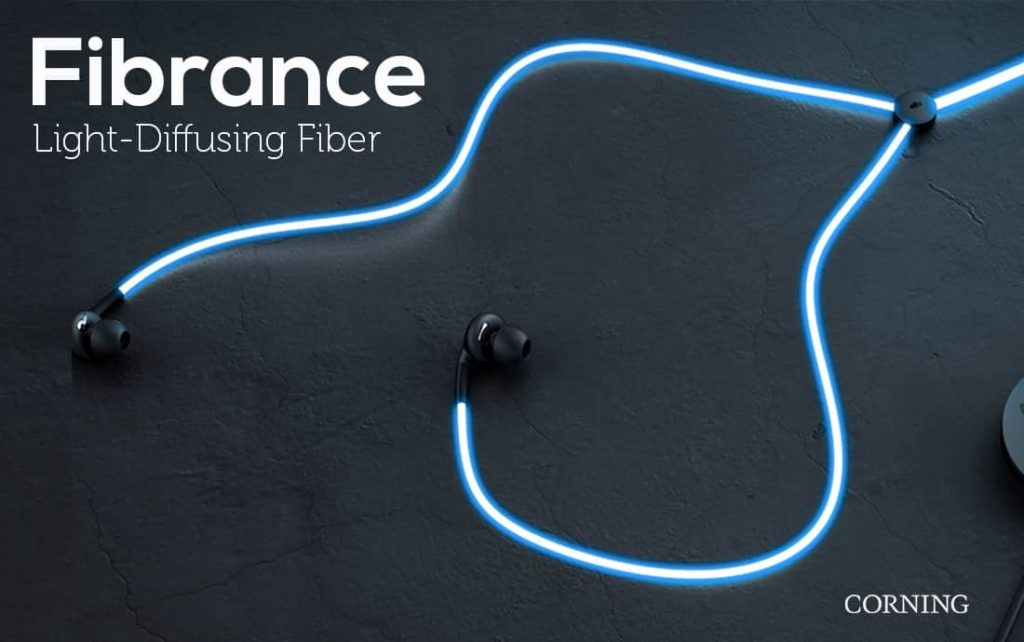 In mobile we mostly recognize Corning for their fortified Gorilla Glass, which is very popular for smartphones and tablets. It's great at helping us keep our devices free of scratches or cracks, but Corning does much more than Gorilla Glass. They have just announced Fibrance, a product that will literally light your devices up.
Corning Fibrance is a very thin optical fiber that creates "vibrant, colorful light." It can be used to emit gorgeous lighting, and its thin, flexible profile allows it to go with a multitude of products. Corning sees it coming to clothing, headphones, vehicles, appliances, wearables and more.
These are not exactly mobile-exclusive applications of the product, but Fibrance can make our devices and accessories much smarter. Paired with our tech, Fibrance could become extensions of our "smart life". A perfect example would be light notifications and status updates.
These fiber optic cables could even let you know if your bluetooth headphones are paired, playing music, running out of bluetooth reach and the like. Because they are very thin and flexible, I could even see them being used as notification lights in current smartphones. Fibrance could surround the edges of our smartphones and tablets, for example.
Imagination is the only limit. Corning has the reputation and resources to take Fibrance to astonishing levels. We can't wait to see how Fibrance is applied once it starts reaching the market. We just have to wonder how energy efficient this technology is. After all, fiber optics are known for their optimal data and light retention.
More details will surely come, so let's keep our eyes open for this one. Fibrance certainly looks promising. What kind of products would you like to see coming with Fibrance lighting?