TOSLINK (from Toshiba Link) is a standardized optical fiber connector system originally from Toshiba, who created TOSLINK to connect their CD players to the receivers they manufactured, for PCM audio streams. The software layer is based on the "Sony/Philips Digital Interface"(S/PDIF), while the hardware layer utilizes a plastic optical fiber(POF) transmission system, rather than the traditional electrical (copper) hardware layer of S/PDIF because POF has advantages of high elastic strain limits, high fracture toughness, high flexibility in bending, and high sensitivity to strain.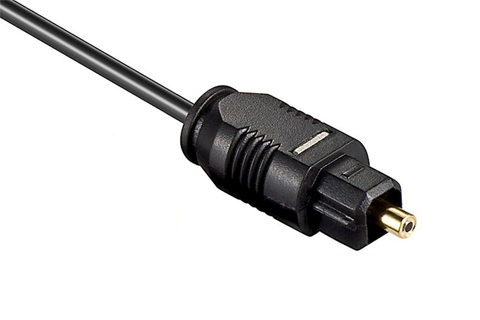 TOSLINK Optical

Clear TOSLINK cable with a round connector for S/PDIF connectivity.
Type
Optical digital audio connector
Production history
Designer
Toshiba
Designed
1983
Manufacturer
Toshiba
Produced
Since 1983
General specifications
Hot pluggable
Yes
External
Yes
Audio signal
Digital audio bitstream. Originally limited to 48 kHz at 20 bits. Extended to support all modern formats (Depending on manufacture and specification)
Cable
Optical fiber, ~10 m (33 ft) maximum
Pins
1
Connector
JIS F05 (JIS C5974-1993 F05)
Data
Width
20-, 24-bit audio samples
Working Wavelength
650nm (RED)
Bit–rate
Originally 3.1 Mbit/s;
now 125 Mbit/s
Max. devices
1
Protocol
Serial
Also known generically as optical audio, the most common use of Toslink is in consumer audio equipment (via a "digital optical" socket), where it carries a digital audio stream from components such as CD and DVD players, Digital Audio Tape recorders, computers, and modern video game consoles, to an AV receiver that can decode two channels of uncompressed lossless pulse-code modulated (PCM) audio or compressed 5.1/7.1 surround sound such as Dolby Digital or DTS Surround System. Unlike HDMI, TOSLINK does not have the bandwidth to carry the lossless versions of Dolby TrueHD, DTS-HD Master Audio, or more than two channels of PCM audio.